Christabelle: La música refleja la vida y habla de lo que nos afecta como seres humanos
Malta celebró su final nacional hace varias semanas. 16 actuaciones compitieron para ser el representante maltés en Lisboa. Christabelle con la canción Taboo ganó esta competición convirtiéndose en la representante de Malta en Eurovisión 2018.

Nosotros hemos contactado con Christabelle para hacerle una entrevista

Muchas gracias Christabelle por concedernos esta entresvista

1.- Ganaste la Selección Nacional maltesa pero ya has participado antes en varias ocasiones ¿Ha sido esta vez cuando realmente ganarías?
Creo que, como cualquier otro concursante, siempre concursé con la intención de ganar. Esta fue mi cuarta vez (habiendo obtenido la octava plaza, segunda y tercera en 2014, 2015 y 2016 respectivamente) y , una vez más mi objetivo era darlo todo de mi. Creo que tomarme un año de descanso hizo que me enfocara en otras areas de mi carrera musical y creciera como artisa tratando de llevar todo lo que había experimentado y aprendido sobre el escenario. La fórmula parece haber funcionado y estoy muy agradecida de que los malteses y al jurado por haber creído en lo que tiene esta canción para Malta en Eurovisión.

2.- Había un buen número de buenos cantantes compitiendo contigo en el MESC 2018. Aparte de ti, cuál de los temas fue bueno en tu opinión?
Creo que cada concursante hizo lo mejor, y creo que había muchas canciones que eran buenas por una variedad de razones. En Malta, Eurovisión es un gran negocio y cualquier ganador tendría que llevar unos zapatos muy grandes para seguir a buenos cantantes. Por supuesto, tenía canciones preferidas frente a otras pero algo aprendí de todos y cada uno de los concursantes.

3.- El título de la canción que interpretarás en Lisboa se titula "Taboo" ¿Hay algo de taboo en la música?
La música refleja la vida y habla de de las cosas que nos afectan como seres humanos. "Taboo" toma su nombre de tema del que trata la canción, y es que la salud mental con demasiada frecuencia no se considera un tema a tratar, como alguien que lo haya experimentado de primera mano, sé lo difícil que puede ser decir a alguien cercano que no te sientes bien emocional ni mentalmente y el objetivo de la canción, más que ganar cualquier concurso o premio, es conseguir que la gente hable más abiertamente sobre este común y no tan habitualmente hablado tema.

4.- Malta nunca ha ganado Eurovisión ¿Serás tú la primera artista maltesa que gane el certamen?
Eso espero por supuesto pero eso no lo tengo que decir yo! Por otra parte, daré todo de mi sobre el escenario y he estado trabajando con mi director artístico de confianza, Steven Levi Vella en crear algo que se ajuste al tema de la canción y que haga que la gente de Malta, a la cual represento, se sienta orgullosa ¿Será esa la fórmula ganadora? Seguro!

Muchas gracias. Te deseamos mucha suerte en Eurovisión. A ver si este es el año de Malta!
Malta debutó en 1971 y nunca ha ganado el festival y su mejor posición ha sido en segundo lugar en dos ocasiones. Christabelle intentará, como nos ha dicho, "dar todo de si" pero como todo el mundo sabe, no es fácil. Mucha suerte Malta!
Christabelle: Music should reflect life and talk about things that affect us as human beings
Malta celebrated its National Selection several weeks ago where 16 acts competed for be the representative of this Mediterranean country at Lisbon. Christabelle with the song titled
Taboo
won the competition becoming the representative of Malta in
Eurovision 2018
.

We have contacted with Crhistabelle to make this short interview.

Hi Christabelle, thank you very much for this interview

1.- You won the Maltese National Selection but you have participated before several times. Was this time when you really though that you would win?
I think that, like any other contestant, I always entered hoping I'd win. This was my fourth time (having placed eighth, second and third in 2014, 2015 and 2016, respectively) and, once again, my aim was to give it my all. I do think that taking a break for one year to focus on other areas of my music career helped me grow as an artist, and I tried to bring everything I had experienced and learnt to the stage. The formula seems to have worked, and I'm very grateful to the Maltese people and the judges for believing this song had what it takes to represent Malta in the Eurovision.

2.- There were lots of good singers competing with you in the MESC 2018. Apart of you, which entry was good for you?
I think every contestant did their best, and there were many songs that were good for a variety of reasons. In Malta, Eurovision is a very big deal and any winner would have some very big shoes to fill and very good singers whose footsteps they would need to follow in. Of course, there were songs I preferred to others, but there are things I have learnt from each and every one of the other singers.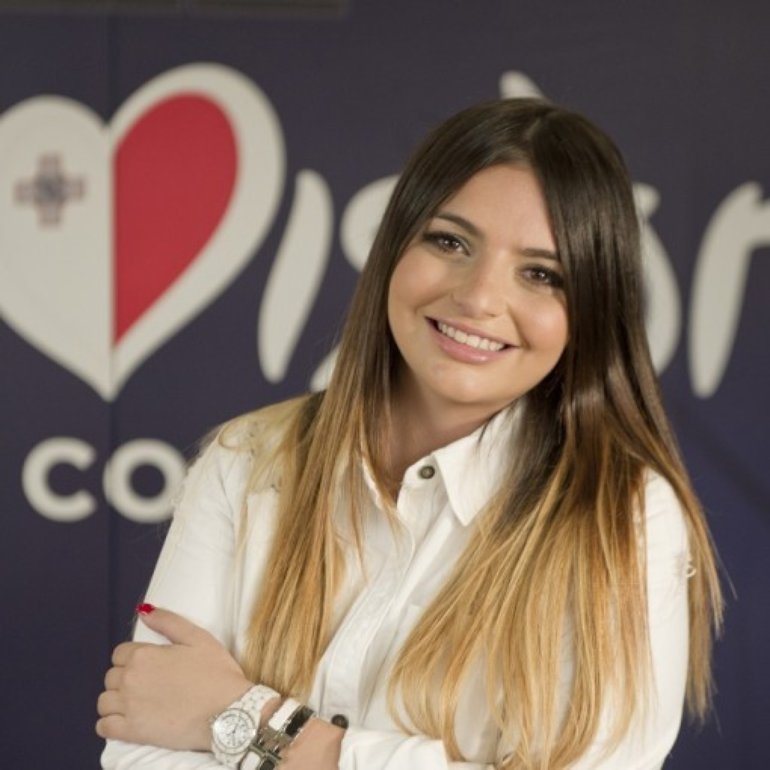 3.- The title of the song that you will perform in Lisbon called "Taboo". Is there anything taboo in the music?
Music should reflect life and talk about things that affect us as human beings. 'Taboo' gets its name from the theme the song addresses, which is that mental health is all too often not considered a suitable subject for conversation. As someone who has experienced this first hand, I know how difficult it can be to tell someone close to you that you don't feel well emotionally and mentally and the aim of the song, more than winning any contest or award, was to get people to speak more openly about this very common but not-often-discussed reality.

4.- Malta never has won Eurovision. Will you be the first Maltese artist that win the competition?
I hope so, of course, but that's not for me to say! I will, from my end, give it my all on stage and I have been working with my trusted artistic director Steven Levi Vella on creating something that fits the theme of the song, my image, and which will make the people of Malta – who, ultimately, are who I'm representing – proud. Do I hope that that will be a winning formula? Definitely!

Thanks a lot for the interview. We wish you lot of luck. Maybe this is the year of Malta in Eurovision.

Malta debuted in Eurovision in 1971 and never has won the competition. Its best score ahs been the second place two times. Christabelle will try has she said, "give it my all" but as everyone knows, it is not easy. Good luck Malta!
Fuente / Source: tvm.com.mt