Es una pena no utilizar todo lo que Eurovisión tiene que ofrecer
Serbia tiene una corta historia en Eurovisión pero ya posee una victoria. Este año Serbia compite en Eurovisión con una selección interna. Tijana Bogićević fue la artista seleccionada por la televisión pública de Serbia.
Tijana justo acaba de publicar el tema que interpretará sobre el escenario de Eurovisión 2017 que se titula In too deep y ha querido hablar con nosotros sobre su candidatura.

Muchas gracias Tijana por tu tiempo. Eres muy amable

1.- Cuando estuviste en Eurovsión 2011 como corista de Nina, soñaste que podrías estar algún año como cantante principal? Qué sentiste cuando recibiste la propuesta?
En Serbia somos unos grandes admiradores de Eurovisión y se traslada a las nuevas generaciones. Siempre he querido ser la representante en Eurovisión, así que no dudé ni un momento cuando recibí la propuesta.

2.- Intentaste ir a Eurovisión antes en 2009 cuando presentaste candidatura en el Beovizija. ¿Cuál es en tu opinión la mejor manera de elegir una representación para Eurovisión, una selección interna o una Selección Nacional?
Creo que ambas están bien. Una selección nacional definitivamente lleva menos especulaciones y dudas en cómo la televisión pública de turno elege al representante. Pero desde que he sido seleccionada internamente, no puedo decir nada en contra obviamente :D

3.- Eurovision es un concurso musical pero hoy en día, la puesta en escena es muy importante. ¿Qué nos puedes decir de ésto?
Todo en el mundo de la música ha cambiado. Internet se ha convertido en el medio número 1 en el mundo, la gente ha empezado a ver más la música que a escucharla. Eurovision, people started watching music more than listening to it. Las opciones de Eurovisión para la puesta en escena y la experiencia visual van creciendo cada año y es realmente una pena todo lo que ésto tiene que ofrecer. Creo que es rabiosa actualidad!

4.- What can you tell about your song?
Me encanta la canción. "In Too Deep" es una canción pop moderna con una base D'n'B y es muy enérgica y poderosa. Pero ante todo es una canción de amor!

Muchas gracias Tijana por esta entrevista

Serbia debutó en Eurovisión en 2007 y aquel año ganaron el concurso. El año pasado, Serbia fue representada por Sanja Vučić con la canción Goodbye. Serbia envia este año una buena canción a Kiev. Suerte!


It is a shame not to use all that Eurovision has to offer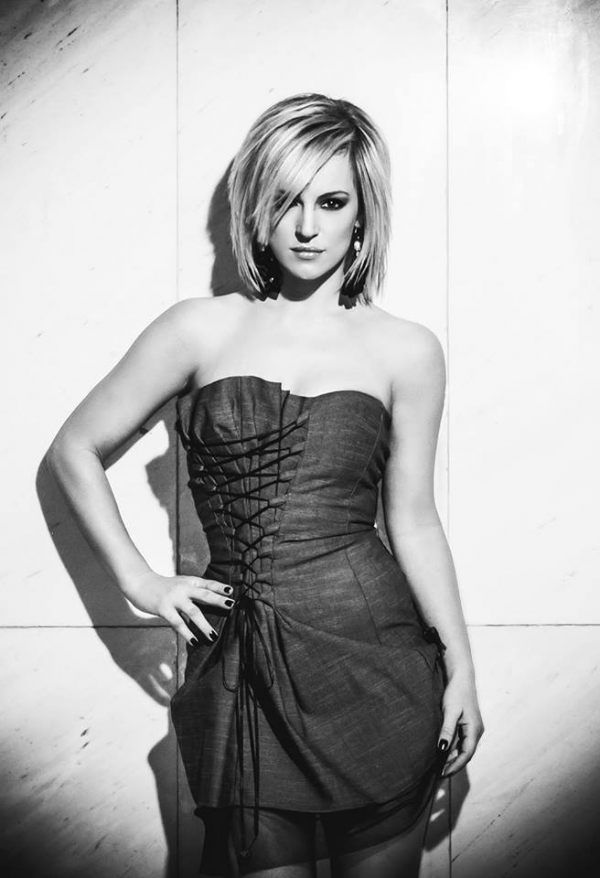 Serbia has a short history in Eurovision but it has got a victory already. This year Serbia compete in Eurovision with an internal selection. Tijana Bogićević was the artist selected by the Serbian National Broadcaster.

Tijana just has published several days ago the entry that she will perform on the stage of Eurovision 2017 that it is titled
In too deep
and she has wanted to speak with us about her candidature.

Thank you very much Tijana for your time. You are very kind

1.- When you were in Eurovision 2011 as backing vocal of Nina, Did you dream that you would be any year in front of the stage? What did you feel when you received the proposal?

In Serbia we are big Eurovision fans and it goes down to new generations. I have always wanted to be the representative in Eurovision, so I didn't hesitate one moment when I got the proposal.

2.- You tried to go to Eurovision before in 2009 when you presented candidature in the Beovizija. What is in your opinion the best way to chose a representation to Eurovision, an internal selection or a National Selection?
I think either is ok. National selection will definitely bring less speculations and doubts in how does the broadcaster choose the representative. But since I was chosen internally, I can't talk against it obviously :D
3.- Eurovision is a music contest but nowadays, the staging is very important. What do you think about it?
Everything in a world of music changed. With internet becoming No1 media in the world, people started watching music more than listening to it. Eurovision standards for staging and visual experience are getting higher each year and it is really a shame not to use all that it has to offer. I think it's great actually!

4.- What can you tell about your song?
I love the song. "In Too Deep" is a modern pop song with D'n'B groove and it is very energetic and powerfull. But all in all it is a love song!

Thank you very much Tijana for this interview.

Serbia debuted in Eurovision in 2007 and that year it won the contest. Last year, Serbia was represented by Sanja Vučić with the song
Goodbye
. Serbia this year sends a good entry to Kyiv. Good luck!
Fuente / Source: Tijana Bogićević